Thursday 8th August
Ian brought me out of my pen at about 11 o'clock and I was wondering why, when I saw this strange man - strange as in a man I didn't know, not strange as in funny or peculiar!
I'd been turned down by a previous family, was this man maybe looking to adopt me?  So I thought "Girl, you need to put your best paw forward and make a big fuss of him", which I did.  I think I melted his heart.  Then one of the feral cats appeared at the gate.  Again I thought "best behaviour", so I just looked at it and didn't bark.  Ian asked "Pete" if he wanted to take me for a walk, so I was going out for an extra run - fab!
I started off pulling Pete behind me, but he made me aware he was not having that.  I thought I should be better on the lead - I was better but not that good.  He started to teach me to sit.  I worked out that if I did it I got a treat, so became quite good at it.  I saw a few sheep in the distance and wanted a closer look so tried to pull Pete towards them.  He let me get closer, but not as close as I would have liked - I tried to tell him I only wanted to look.  A bit further along he took me to look at a number of cows who came to lean over the gate.  Very friendly, however I wasn't too keen on them as they kept blowing down their noses at me.
We walked back and again I was reminded not to pull.  Ian took me to my pen but after a while he came to get me again - I was wondering why?  In Reception, Pete pulled a tailor's tape out of his pocket and started measuring me.  I thought "here we go again, she's too big".  (I'm not that big as Ian has had me on a diet).  Pete was measuring my neck and chest saying he needed to order a harness for me.  I started to reconsider if he was strange in a different way!!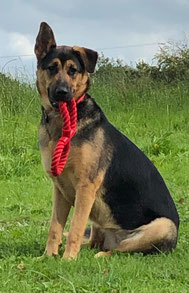 Monday 12th
Nothing seems to have changed, Ian is still caring for me.  No sign of Pete so I guess he isn't coming for me.  I feel very sad, does nobody want me - is it my ear being floppy or that I'm not 100% German Shepherd?
Monday 19th
Ian made a surprise visit to me and had a lovely blanket which I think smelt of Pete, but it's been a while so maybe I'm mistaken.
Wednesday 21st
I've been having fun out in the field with Ian and some of the others.  The farmer has been muck-spreading - great for me to roll in and eat.  Still no Pete, but at least some fun with Ian.  After a good run and roll in muck I was put back in my pen.  Funny, the blanket doesn't smell of Pete now, but has more of an "odour de toilette" fragrance about it.
Thursday 22nd - Spa Day
Today the pen door opened and Ian took me out.  I thought "what's going on here"?  We went to another room and I realised it was a Spa Day, starting with a foam bath.  It was very nice although it left me a little "clean-smelling".  After a wet massage I was given a rub down and a dry massage.  Then I had a good groom and looked a million dollars.  I thought the only let-down was my nails, however Ian the Superstar soon turned his attention to them, so now I really do look a million dollars!  I wasn't fully taken with my new smell but will sort that out on the next run - hope I get some horse muck to roll in.  Why was I such a lucky girl, nobody else has had a Spa Day with Ian - am I his favourite?  After these relaxing treatments I think I will sleep well.
Friday 23rd - The Big Day
The day started as usual with our carers cleaning the pens, feeding us and making sure we're all ok.  There have been so many new arrivals this morning - a lot looking sad as they were put in their pens and their owners went away.  I hope what's happening to them isn't what happened to me.  
Mid-morning Ian came to my pen again.   I thought "great, another Spa Day", but he put a lead on me and took me to Reception - surprise, surprise, Pete was there!  I junped up at him but he told me off.  I don't think he likes me jumping up, must remember that.  He came down to my level and told me my new name was Toyah, and said he was sorry I'd had to be in kennels for an extra two weeks, he'd been on holiday and then helped his folks get ready to move in with "us".   But he was here now to take me to my forever home.  I've heard this before but Ian said this time it was true.   I trust Ian and GSD 2000 as they've been so good to me.  So I guess this time it really is true.
Having fussed me, Pete pulled a linked-chain collar out of his pocket and it had a disc on it.  I saw my new surname, address and phone number.  I felt so excited I wanted to wee, but I behaved.   Next, there was a red and black thing - it soon became clear it was a harness.  Pete and I went for a walk down the lane.  I thought as I'd been so excited I'd better have a wee and a poo.  After the poo I had a laugh as this was the first time Pete had to use a poo bag.  His face was a picture as he retched while picking it up. (Must remember that, lol).  We went back to Reception, Pete and Ian said goodbye and then I said bye to Ian.  He said "see you in a few days' time".  Does that mean I will be coming back to kennels?  Ian told me I have a forever home - I'm a little confused here.
Pete took me to a very large car with a trailer on the back.  Am I going in the trailer?  The car looks posh, not like Ian's van.  Pete made me sit while he opened the back door, then he gave me a treat and told me to get in.  He clipped a strap to my harness to keep me safe, then got in the front and we were away, but to where?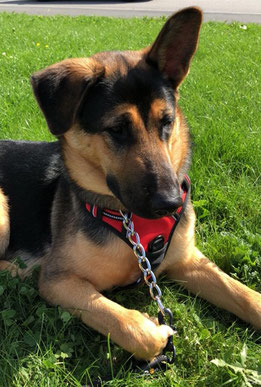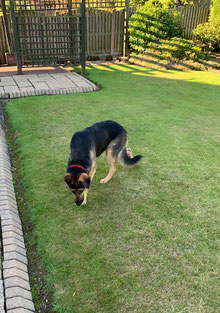 After some time we pulled up - I do hope this isn't my new home as there are parked cars everywhere.  Pete put my new lead on and took me for a wander - lots of smells of other dogs here.  I had a wee and a drink and then I was told to sit while Pete opened what I now refer to as "my" door.  I jumped in, and with harness and lead sorted, we were on our way again.  
Next time we stopped it was great - I could see fields, woods and a very large garden.  Pete said "Welcome home Toyah".  I was given a drink and a run, then we headed to his, no our front door.  He told me to sit before he opened the door - I'm starting to think I must sit before going through any door. 
Pete said he needed to check to see if Jazz was in.  Jazz - who is Jazz?  I found out later that Jazz is his cat, so I have to share Pete with her.
I walked in and saw water and food, but I wasn't allowed near it as Pete said it was Jazz's, and mine is elsewhere.  I was shown where my food was, and it was served up in an odd, lumpy bowl.  It took me ages to get the food out from between the lumps.  That said, it was nice and I enjoyed my first meal in my new home. 
I can't wait to get into bed and sleep with Pete, it's been such a busy day, but first I think some TV and cuddling on the settee.  Man, that's not going to happen!  Pete won't let me on the furniture, but he sat on the floor with me, so we did get the cuddles.  We had a final walk around the field and woodland and I treated Pete to another poo, but he didn't pick it up this time - disappointed!   
So now it's bedtime.  Where am I going to sleep?  If I'm not allowed on the settee, I think the bed will be off limits!   Oh, there's a cage with a nice bed inside it, and my blanket is there.  Yes, I think this is mine.  I just hope the door is left open.
Also, as it's bedtime, where is Jazz?  Why can she come and go as she wants?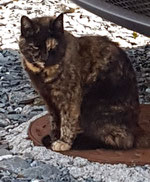 Saturday 24th
I had a great night's sleep.  I was let out in the morning and taken for a walk around the field so I could wee.  I had a nice breakfast in that funny bowl again.  Then I was put in the crate as Pete needed to go out.  When he got back I was out of the cage to meet him.  He was surprised that I was out, however he'll learn that I'm a little Harry Houdini.  What's that on his left arm?  I investigated - it was a plaster as he'd broken his wrist.  He took me for a walk then I had a sleep.
The doorbell rang and a guy was at the door.  He made a huge fuss of me, and I made a new friend whose name is Paul.  Paul had a cup of tea and I was to find out that Paul needs a lot of tea to work!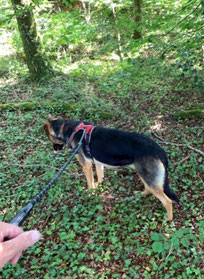 We went out to Paul's car, he put me in and then we were off.  We arrived at a hospital, Pete got out and said goodbye to me.  Paul then drove off with me - what is happening?
Shortly after we got to a wood and Paul took me for a long, slow walk.  He said I wasn't allowed too much exercise as I'm young.  
We collected Pete from the hospital and went home.  I had my tea and was put into my cage to sleep.  I hate my cage so thought I would escape again.  I was successful but unfortunately ripped my new bed during the escape.
Sunday 25th
Pete came down to find me out of my cage and he was very upset with me.  We had a day of walking, sleeping, eating and getting to know each other.  Paul had gone to work so it was just the two of us.  Pete also started to teach me to walk to heel, which I learned very quickly as I didn't want to hurt his wrist.  He said that he trusted me and let me off the lead so I had a nice run.  I've learned my new name and went back to him every time he called me.
I'd had a great day and then my other friend, Paul returned.  They had a very nice-smelling lamb dinner.  Paul saved me some lamb and was going to give it to me at the table, but Pete wouldn't let him, so we moved away and I had three pieces, but I had to sit before he gave them to me.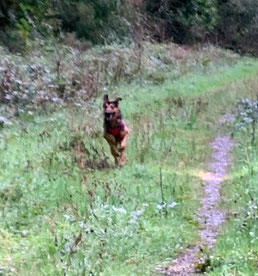 Well it's bedtime, so I think it will be cage time too, but I know I'll be able to escape again - got it down to a fine art.  Surprise, i was allowed to stay out of the cage.  I went to sleep and was thinking I may call Pete "Dad".   I love my new home and family.
Monday 26th
Early start as Dad took me into the field - I did three wees and a poo.  He was so pleased with me!
Dad took two cups of tea upstairs, leaving me downstairs.  After a while Paul came down and took me out to the field and I was told to "be quick", which I now know means wee and poo time, so I did a wee for Paul.   He took me back in and I saw my chance to run upstairs, even though I'm not allowed up there as this is Jazz the cat's area.  I made it all the way and found Dad in the bath, but Paul was close behind shouting at me.  So I rolled over on my back - that should stop him getting me downstairs - but Dad said very assertively "away" at me, so i went with Paul.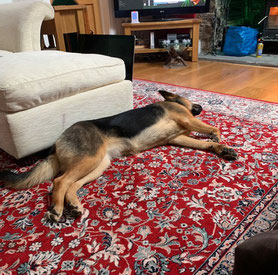 Dad and Paul left me to go shopping but I was glad, as after the good walk, I needed some sleep.
When they came back they had bought me a new red collar which matched my other stuff.
They also bought me a pig's trotter which was great, and it took me over an hour to eat it.
Saturday 31st - The Show
I was woken up early and taken for a walk, then I had my nails done, was brushed and had a rubdown with a chamois leather.  I thought it was nice but not as good as a Spa Day with Ian!  Then we got in the car and set off.
It took ages but we arrived at a place where there were lots of dogs and stalls.  Then I saw Ian again.  I was so happy to see him I jumped up and got told off and pulled back to the floor.  I was introduced to Gill, the "Matchmaker Lady" who had found my Dad for me, so I was pleased to meet her.  She gave me a rosette to wear and told me I was going to lead the Parade of Rescue Dogs around the show ring.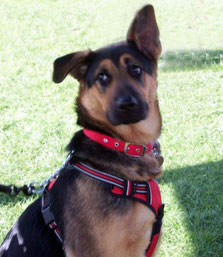 I was happy to see that Dad had changed his cast to a red one, so he matched all my accessories.  We looked good, but I was so distracted by everybody else, I wasn't that good at walking to heel.
Dad also entered me in a competition for Best GSD.  I won a rosette for 6th place which I was pleased about, as after all, I have a little bit of Roti in me.
Dad went for a coffee and cake which he said was great, and he let me have a small amount.  After that we looked at the stalls and I did the Doggy Tombola and won lots of great stuff - my favourite was a small rugby ball.
Then I noticed some great smells and Dad took me over to the barbecue where we shared a sausage roll with onions.  I decided to make a new friend, Graeme, who was running the stall.  I'm not daft and I'm sure I'll get another sausage or two from him!
I heard Graeme say he was cooking sausages for the Catch a Sausage competition, so I may get some more.  What a disappointment - Dad hasn't entered me into that competition, probably as I don't know how to catch.  Dad, you need to teach me as I'm missing out on sausages!!
We were walking in the field when I saw a set of car keys, so I told Dad "look at what I've found".  He made a  fuss of me and we took them to Gill and Brenda who were co-ordinating the competitions.  I know somebody will be happy I've found them.
It's getting late and Dad says we need to go.  We have a long drive ahead. as I'm now going to meet Granny and Grandad.  I got in the car and settled down, thinking I've been with Dad just over a week and I've had one of the best weeks of my young life. 
I now have a new family; Dad, Daddy 2 (Paul), Granny and Grandad, who are all lovely.  I know we're going to have some great fun.  I still need to meet Jazz, but am sure I will sometime soon, then I'll have an older sister.
But at the moment I need to sleep!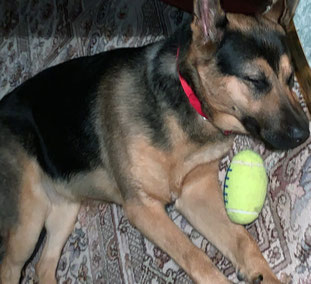 I've had so much fun at the show and can't wait to go to the next event which I know is a Christmas Fair, as I heard Dad and Gill talking about it.
GSD 2000 do so much work to care for us Rescue Dogs, and I'm very pleased they were there to help me out when I needed them.  I think I may try to help at their Charity Shop as we live very close to it, and I've been there a couple of times when Dad was taking in donations.   Must have a think about what I can do!